Georgi Stankov, February 8, 2019
In the last 24 hours Gaia and humanity were hit by a massive energetic blast from the Central Sun which I personally experienced as the obligatory cc-wave with an excruciating headache right,  in the eye socket, stomach pain, joint pain all over, and muscle rigidity. Carla was at the hairdresser at that time and almost fainted on the chair. There was also massive cleansing of all despicable human traits and dark energetic patterns and the political scene in the last two days displays a vast panopticum of all the dark sides humanity has harboured for eons of time and only now can no longer hide behind duplicity and treachery.
As I also experienced a pronounced state of fever, although my body is now fully crystalline and can no longer have elevated temperature, I knew that we have another massive coronal hole and checked at spaceweather.com. The sun looks like a sieve and the coronal hole encompasses practically the entire disc portal of the new red giant sun: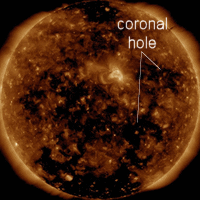 Please, do not be dissuaded by the announcement that the sun flares will reach earth tomorrow. The energies of the Central Sun are not limited to the speed of light but traverse space immediately.