Suppression of Gold and Silver? Is COMEX being Cornered?
by Bill Holter and Miles Franklin, November 25, 2014
http://www.globalresearch.ca/a-major-international-monetary-crisis-is-looming-the-suppression-of-gold-and-silver-is-comex-being-cornered/5416111
Foreword
by Georgi Stankov
In the last weeks I have published a number of articles, where I predicted the inevitability of the coming crash of the Orion monetary system. I outlined several possible scenarios that were based on the macro-economical analysis of basic financial and economic fallacies of the current fraudulent monetary system that will lead to its collapse and underlined this conclusion with a professional chart-technical analysis of the equity markets.
In the last days I continued this discussion with the PAT member, Brad Barber, who is closely watching the financial markets. In one of my emails to him on November 20th I made him aware of the following notable fact with regard to gold:
"I checked today the major indices and they are now building a plateau before they crash. Obviously there is no oxygen anymore at this all-time height. According to me the gold is for a rally and at the same time the equities markets must crash – most probably beginning next week. Crude oil has reached the bottom and the price will jump in the coming days, but not much – around 80$ a barrel most probably. "
Now please observe that I made this statement one day before the authors below analysed the behavior of gold contracts at the COMEX the next day, Friday, and came exactly to the same conclusion – that the gold and silver markets (which are closely related) are about to crash any moment, possibly this week. This excellent article puts forward many of the major parameters I use in my economic analysis to show why the Orion monetary system and its subservient economy are doomed to crash in the End Times. Now this moment has been reached and, although linear time is an illusion as we all know, it is almost a certainty that this must happen this year, before Christmas or New Year.
This conclusion is reinforced by my close gauging of the energetic events associated with the ascension of this uppermost mother planet and part of humanity to the new Golden Galaxy. As Carla wrote yesterday, we are now ascending with huge leaps towards this New World in the new Golden Galaxy, but the processes are so complex that the Elohim advised us not to delve too much into details. It is beyond any human comprehension. But we are definitely now on a steep spiral and all light warriors of the first and the last hour feel these energies within their fields and bodies and this is the most reliable proof for the acceleration of the ascension process.
I personally was hit in the last 48 hours by one of the most severe cc-waves ever, with a massive descent of very high frequency source energies into my body and fields which caused an excruciating headache for almost two days and a complete physical exhaustion. Today, I am suffering from a post-commotio astnenic (fatigue) syndrom. The most remarkabe fact is that these energies were so intensive that they burnt my skin on the face and the breast as if I have had a sun burning in the tropics. This night I had a lot of chills, which I normally do not have, and was told by my HS that there are devastating MPR on very near-by timelines. Not to speak of the constant high level of energies that flood my body all the time and the deafening high-pitched sound in my ears.
These most relevant energetic facts should be coupled to the precipitous collapse of the gold and silver markets, which are closely related to the numerous fraudulent derivatives of the Western banks that exceed more than 50 times the BSP of the world economy. 90% of these virtual derivatives, such as CDOs, are issued by the ten biggest US and European banks, the usual suspects, that are now under investigations for multiple fraudulent practices as already reported by myself. When the gold and silver markets crash in the coming days, this will immediately cause the bankruptcy of these banks and the shutdown of all other banks. Hence the authors below are right to predict a run on the banks very soon.
________________________________
Article:
It is with a deep sense of gratitude that I have had all of you as friends and associates during what has been a long war, not a good war, but a very long "financial war".  As you know from these writings; this has been a war conducted by the Federal Reserve against the entire world, aided and abetted by major international banks via the manipulation of almost every market on the planet.  The ethics and morals our country was originally built on …be damned!
The events mentioned herein relative to the suppression of gold and silver using dollar hegemony as the tool indicate a major international monetary crisis is dead ahead, this is obvious.  Power in the hands of the few have made massive gains for those at the top of the economic ladder while the average man has become a debt slave to the few.  There are of course the laws of Mother Nature and "unintended consequences".  Those at the top who intend to "rule the world" are being challenged from the East in what I believe to be almost a winner take all "war".  It did not have to be this way but the "West" has forced this.
I have never written "this is my most important writing ever!" but that day has now come.  So many events have all aligned at once which point to something very bad happening, very soon.  In fact, "very soon" could be as soon as the Monday following this Thanksgiving.  We saw many different events unfold over this past week which I believe are all connected in one way or another, I will try to connect them for you.  That said, please understand that we are and have been in a financial war for many years now.  This "war" is one between the East and West where the West's paper financial system which has been in control for so many years is seeing its power wane.  It is this "wane" of the West versus the rise of the East that I believe is now, finally, coming to head.
If you recall, we had two Fridays in a row where gold and silver prices were smashed early in the overnight hours and into the morning, only to turn around violently and close very strongly for the day and the week.  This action is called an "outside reversal day" which over the years has been an extremely rare event in the precious metals.  It has been rare in precious metals because it was not "allowed".  When I say "allowed", please remember that COMEX is a paper exchange where possessing metal is not necessary to sell gold or silver.  All you have to have is "money" to post as margin and you are allowed to sell as many contracts as you have margin for.  There are "limits" to how many contracts one can buy or hold, these limits do not seem to have been enforced on the sell side …JP Morgan's short position in silver as an example.
 So we had two outside reversal Fridays in a row, this was followed by the action this past Wednesday.  80 tons of gold was sold over a 15 minute timespan which knocked gold down $20 in the blink of an eye.  Please see the chart below courtesy of Dave Kranzler of IRD.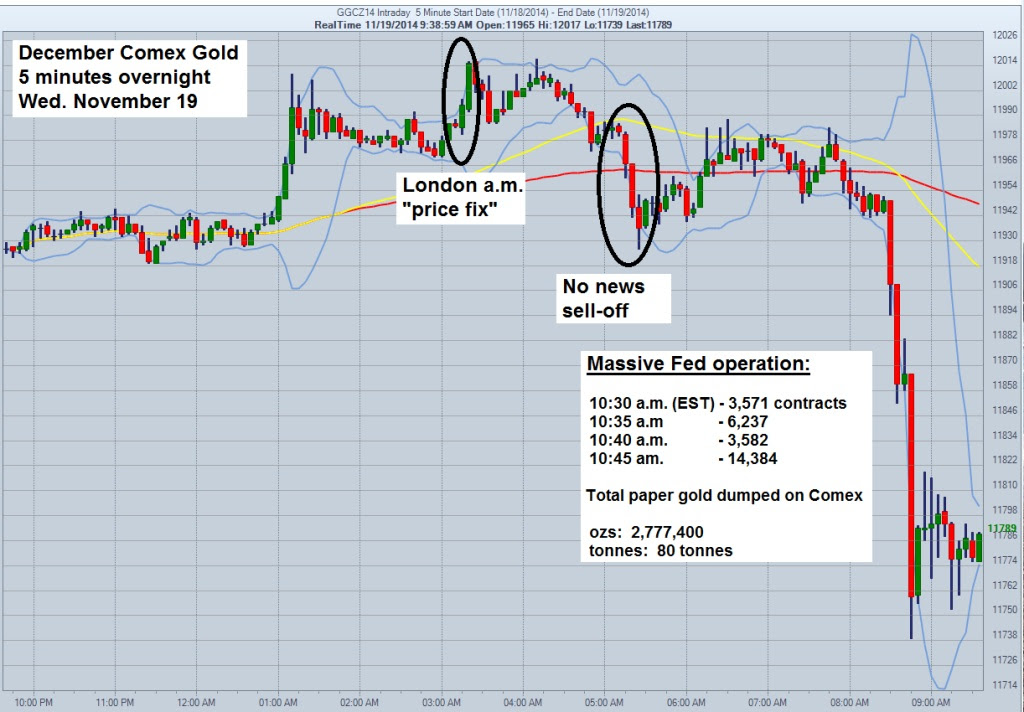 80 tons!  Let me put this in perspective.  80 tons is equal to two weeks worth of global gold production …sold in just 15 minutes!  This is nearly 2.8 million ounces. The interesting thing is, COMEX only claims to have 865,000 ounces of gold available for delivery so more than 3 times the amount of ounces were sold in 15 minutes than is even claimed as available for delivery! What followed however was the real stunner, very shortly afterward gold dug in its heels and started to recover …recover to unchanged in price!  Do you see the importance here?  Though this was not another outside reversal day, it may have been even more important.  The "paper" market absorbed two weeks worth of production in just 15 minutes without breaking!  I'll get back to this shortly and tie it in to the rest.
If you recall, I wrote a piece back in August entitled "Kill Switch"  http://silverseek.com/article/kill-switch-13503 where I put forth a hypothesis that the high and rising open interest in silver was actually the Chinese via proxies cornering the silver market.  The huge open interest in the nearby contract rolled out to the December contract.  At that point, the open interest in gold was at multi year lows as one would expect with prices down.  This has changed, just over the last 4-6 weeks, the open interest has steadily built in gold …while continuous pressure still on the price.  Before going any further, I have never seen the open interest rise to multiyear highs while the price was pushed to multi year lows in ANY commodity.  This is truly an anomaly and one that looks like it could be resolved very shortly.
This coming Friday is the 1st notice day for both Dec. COMEX gold and silver contracts.  COMEX in my opinion has a potentially huge problem where a default in both contracts is a distinct possibility!  As of this past Friday, 61,763 contracts still open, this represents 308 million ounces of silver.  The COMEX claims a registered (deliverable) inventory of just under 65 million ounces.  With only four days left there are roughly 5 silver ounces contracted for every one ounce available!
The situation in gold has quietly become much worse than silver, there were 162,509 Dec. gold contracts open which represent over 16 million ounces of gold.  The "registered" (deliverable) category at the COMEX inventory shows only 868,910 available to deliver!  Do you see the problem here?  There are only 4 days left until this contract goes into the delivery process, yet there are 20 ounces contracted for each ounce available!  I have one other amusing thought for you, remember the 80 tons sold in 15 minutes last Wednesday?  This was almost 2.8 million ounces compared to a deliverable inventory of just 869,000 ounces, in my opinion,  "FRAUDULENT" in capital letters!
Yes I understand, there are still four days left for the open interest to bleed down and roll out to the next contract month but we now stand in totally uncharted territory.  Never in the past has this much open interest been still outstanding with deliverable inventory as low as it is.  It is also astounding that total open interest could have risen to these levels while the price dropped.  For open interest to increase and the price to drop, the "initiation" to the opening of contracts has obviously been done by sellers.  This is exactly what I have been saying all along, the dropping price has been dictated by paper sales of COMEX contracts …but now there is a problem.  So much paper has been sold to dictate the price that the contracts outstanding simply dwarf the available metal to deliver.  Put another way, COMEX gold and silver look like they have been cornered!  Let me rephrase this, COMEX gold and silver are now "very cornerable".  We will know shortly if this is true and "who" did the cornering.  I suspect we will find out that this has been a Chinese/Russian hand holding consortium and one that was carefully planned and done within legal bounds.  I think we will find out they in fact did play by the West's rules and it was the "sellers" of nonexistent metal who fell into their own price fixing trap.  It has been a financial war, one that was declared by the West and looks to have been possibly won by the East.
Another huge event this past week was the surprise announcement by Holland of their repatriation of 122.5 tons of gold from the FRBNY.
I have many questions about this transaction and very few answers.  We may or may not ever get some of the answers but here is what I'd like to know.  Was the gold which was delivered the "original" gold that was deposited?  Same serial numbers and hallmarks?  If not, where did it come from, who refined and processed it?  And when?  One must also wonder why the Germans did not get their promised gold?  Did Holland work out a deal prior to the German request?  Or is this a case of the Dutch "smelling smoke" and quietly exiting the theatre before anyone else?  Other questions might include whether or not any of this gold was of Ukrainian origin and now what might happen in the derivatives markets?   Remember, derivatives outstanding are probably in the range of 100-1 versus the real metal, taking 122 tons of "collateral" away could affect 12,200 "tons" of paper derivatives.  With the leverage factor, this is equal to better than 4 years worth of global production and could affect close to $1/2 trillion worth of paper contracts!  While on this subject, prior to the Dutch news, GOFO rates were at almost record backward levels.  Has this come about because 122 tons of "collateral" was withdrawn from the pool?  Just thinking out loud here…
Other notable events this past week were many.  First, Congress began questioning the banks on "manipulating the commodities markets," and the Federal Reserve leaking inside information to Goldman Sachs, is the timing of this a coincidence?  Also, president Obama unilaterally has now thrown our borders open, is it possible that the long spoken of "Amero" is really in the works?  One necessity to a North American currency unit would be open borders right?  Again, just thinking out loud.  We also heard Russia announce a decline to import ANY GMO food products from the West for at least 10 years.  They also announced the import of another 55 tons of gold for the quarter for good measure while ISIS announced their intent to use gold and silver as money.
To tie all of this up, let me say that I believe the very long anticipated "market corner" of precious metals may possibly and finally be at hand.  Contrary to what happened back in the late 1970′s with the Hunt brothers in silver, the current "corner" was actually facilitated by the sellers.  The Hunt's in fact did set out to corner silver, I don't believe the Chinese/Russian/Indian alliance initially set out to do this …they were "forced to."
You see, we have been in a "financial war" for years, the U.S. has trod heavily on the rest of the world financially.  We settled our grotesque annual trade deficits by sending freely created dollars as payment.  In order to support the dollar and keep interest rates low, we have suppressed the prices of gold and silver.  Without low metals prices, none of the other markets could ever make any sense.  PE ratios could never be at the current levels without low interest rates, interest rates could never be at these low levels if gold and silver were shooting upward …so the rest of the world has played the only card they could to prevent a World War, a financial card.
They "carried" us and let the game go on and on as they accumulated bigger and bigger stacks of gold.  Much of this gold "was once" Western gold.  They have legally purchased it and in many cases sent our own dollars back to us as payment.  Now, we will sit with lots and lots of dollars while they have lots and lots of gold.  I believe they have now cornered both COMEX gold and silver if they choose to stand for delivery.  They will say "hey, we did not make up the rules, you did.  You sold us contracts, we bought and paid for them.  Now we would like the contract settled, please send us our metal".  This was all legal and they did not step up with the intent of busting the market, they simply "bought what we were selling".  If they do stand for delivery, can they be faulted if they ask for the contract they paid for to perform?
Let me finish by saying this, we very well may wake up after Thanksgiving "fat and happy" only to find out the entire financial system was a fraud.  The East, by asking for delivery may in a "polite" way expose the entire game.  This would accomplish much, first and most importantly, this will go almost all the way in ending the dollar as the world's reserve currency.  The U.S. will no longer be able to trade "something for nothing".  It will also hamper our ability to financially and militarily put our thumb on the rest of the world.  If we became hampered financially, this would also make military operation much more difficult to fund or pay for.  In essence, if I am correct and we do see failure to deliver and a COMEX default …the world may be a safer place!  This past week for example, president Obama secretly extended our stay in Afghanistan, how will this operation be funded by a bankrupt Treasury and a central bank that issues unwanted currency?  The Chinese/Russians in my opinion may be on the verge of winning a war without ever firing a shot and playing the game by our own rules!  We clearly have been the aggressors in both Syria and then in funding a coup in Ukraine.  Could crashing our financial markets be a way to put us on a financial leash and thus lessen our abilities at aggression?  I am sure this thought process has already been discussed.
Please do not call or write me Monday morning and say "see, nothing happened …again".  All I am saying here it that the COMEX is now "cornerable" and in a very vulnerable position.  Maybe it will not be now, maybe it will?  All I can say is history is rife with "bank runs", sooner or later the longs will stand for the delivery of an inventory too small to satisfy them, this will be nothing different than a bank run when it happens.