Georgi Stankov, December 6, 2016
Yesterday we entered with aplomb the final ascension shift period that is intended to culminate around winter solstice. For me it began as usual with a massive cc-wave from the source causing excruciating headache, stomach crisis, skin burning and a complete shock of the body elemental. This continued throughout the night with left eye socket pain and throat pain causing a severe coughing attack. I knew that we have entered the final period of ascension. Today Patrick made me aware of the huge coronal hole that has appeared again on the sun showing that we are again at maximal activity of the Central sun that is sending a huge proton stream of transformation as this has been repeatedly the case in the past when we have made significant leaps in the ascension process:
"HERE COMES THE SOLAR WIND: A solar wind stream is approaching Earth with wind speeds as high as 700 km/s.  First contact with the fast-moving gas on Dec. 7-8 could produce G1-class geomagnetic storms and auroras at high latitudes. Observers around the Arctic Circle could be in for a fine light show.
The source of this solar wind stream is a hole in the sun's atmosphere, shown here in a Dec. 5th image from NASA's Solar Dynamics Observatory: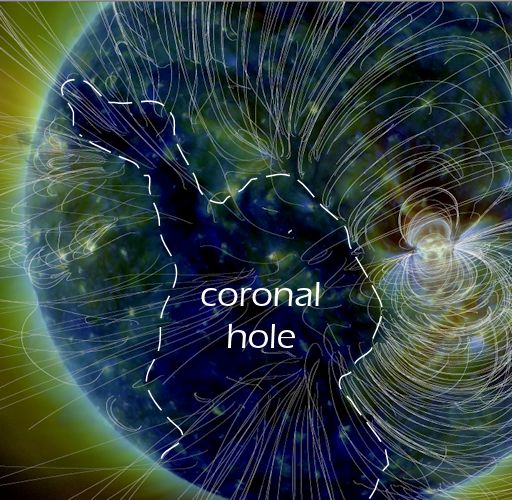 This is a "coronal hole"–a region where the sun's magnetic field has opened up, allowing solar wind to escape.  Because this hole is broad, the emerging stream of solar wind is broad as well. It should influence Earth for several days after it arrives."